Best ads placements to choose from FBR
Explore the following advertising placement options to optimize your monetization strategies.
Published on 22 Jun 2023
Selecting the right product placement advertising is essential for maximizing revenue while maintaining a positive user experience. To help you make informed decisions, we have compiled a list of the best ad placements for your website. If you want to buy advertising space on our website, just check the following ad placements that meet your requirements.
Ad placement examples
Placing ads that promote the best bonus offers in strategic positions on our website can attract users' attention and encourage click-throughs. Consider placing these ads prominently on our homepage or dedicated bonus offer pages. Highlight exclusive promotions, free bets, or enhanced odds to entice users to explore the betting services further.
Capitalizing on major betting events like championships, tournaments, or high-profile matches is an excellent opportunity for targeted ad placements. Create dedicated pages or sections on our website that focus on these events, and feature ads promoting relevant betting options, odds, and expert predictions. This ensures maximum exposure during peak periods of user engagement.
Implementing widgets can be a highly effective way to display ads while providing added value to your users. Consider integrating widgets showcasing live odds, scoreboards, or betting tips. Place these widgets strategically on our FBR homepage, sidebar, or within specific articles to enhance user engagement and generate revenue through relevant ad placements.
Offer advertisers the option to have their betting platforms or services featured prominently on our website. Create a dedicated section where you showcase top-rated or recommended betting options. These featured listings can include eye-catching images, brief descriptions, and call-to-action buttons, attracting users' attention and encouraging conversions.
Leverage our FBR social media presence to extend the reach of your ad placements. We will share sponsored posts across our social media platforms, highlighting your exclusive betting offers or highlighting your featured listing section. Engage with our followers, encourage discussion, and drive traffic back to your website, where users can explore more ad placements and betting reviews.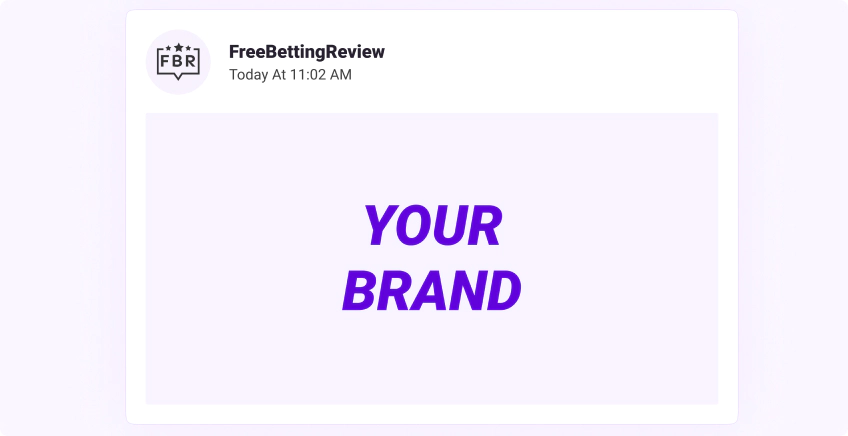 Utilize our email sending to promote exclusive offers and showcase the best ad placements on your website. We will craft compelling content that drives engagement and include visually appealing ad banners or sponsored content within your newsletters. Our specialists will personalize the emails based on users' preferences and betting interests to increase click-through rates and conversions.
The advantages of placement targeting
Free Betting Reviews website offers numerous advantages, making it a compelling choice for both users and advertisers.
With over 55,000 monthly website visitors, the platform provides a large and engaged audience, ensuring significant exposure for advertisers and a wide reach for their promotions.
Additionally, boasting a subscriber base of 213,000+ email subscribers, the website has a direct line of communication with a highly targeted audience, allowing for the effective promotion of exclusive offers and updates.
Furthermore, the impressive 30% conversion rate speaks to the website's ability to captivate and convert users into active participants, making it an attractive platform for advertisers seeking tangible results.
Overall, Free Betting Reviews offers a combination of high website traffic, a substantial email subscriber base, and an impressive conversion rate, making it an advantageous platform for both users and advertisers alike.