Bookmakers Comparison Tool at FBR: Why It Is Useful For You?
Unlock the Benefits of FBR's Comparative Bookmaker Tool | Get Started Now!
Published on 02 Mar 2023
There are thousands of trustworthy and shady online sportsbooks that take bets from people in many different countries and regions. Even though most online sportsbooks function in the same way, there are crucial differences between them. The bookmaker's comparison tool at Free Betting Reviews will come in handy at this point. Investigate this tool further to learn more about it and the reasons why it could be valuable to you.
What is the FBR Comparison Tool?
When it comes to betting and coming out on top, every bettor needs to have an easy way to keep track of the characteristics of bookmakers that are the most significant. For this purpose, the Comparison Tables tool has been produced by Free Betting Reviews. This tool will assist in focusing on certain areas to join a sportsbook that actually provides what it promises such as the following;
The odds offered by betting platforms influence how much money punters earn from winning bets. As a result, the odds are quite crucial. In most circumstances, prices can be viewed in both the decimal and American systems, and even a seemingly insignificant difference might add up over time.
Betting promotions, while not everything, can help players get closer to their objectives. Online bookies care most about getting new customers, so most of them offer sign-up bonuses. Subscribers can take advantage of continuous deals and promotions. Common promotions include free wagers, odds enhancements, accumulator insurance, and refund offers. The attractiveness of betting promotions will be impacted by the promotions' inclusion of terms and conditions.
Depositing funds into your bookmaker's account is required prior to engaging in any betting activity. Online retailers now accept a wide variety of payment options, such as major credit cards, e-wallets like PayPal and Skrill, mobile payment systems like Apple Pay, and wire transfers from your bank account. A perfect scenario would involve instant, fee-free deposits and withdrawals. The best online gambling sites additionally guarantee that their customers' private financial information is safe from prying eyes.
During a live bet, a bettor places a wager on a sporting event that is already in progress. Betting on the next team or player to score in a sport, such as football or tennis, is one example. Many bettors find it simpler to identify good wagers in this format. The odds shift frequently in response to developments on the field, court, or track.
The top betting sites of this day and age have odds on a wide variety of sports. Football, horse racing, tennis, and cricket are popular sports, but Esports, basketball, mixed martial arts, and darts are quickly gaining traction. At the best bookies we've looked into, bettors can choose from pre-match, in-play, and outright markets. These bookies cover more than 30 sports in total. In the meantime, many bookmakers now have virtual sports markets and even odds on political and celebrity news.
For instance, if you want to place a bet on a Champions League match between Manchester City and Real Madrid, you may go online to the websites of a number of different bookies, do your own comparison of football odds, and then select the bookmaker whose odds offer the most value for your money. During the comparison of the two bookies, Free Betting Reviews' analysts covered all you need to know and helped you understand what benefits one bookmaker may have over the other.
Benefits of the Bookmakers Comparison Tool at FBR
Any way you look at it, comparing what the different online bookmakers have to offer is of the utmost importance, especially now that players can choose from a wide range of sportsbooks. Some of the reasons to use the tool at Free Betting Reviews to compare odds from different bookmakers are:
You Can Easily Track the Most Important Betting Factors and Improve Your Experience
Reading a review of a new bookmaker is, of course, also quite helpful because it provides a lot of information that is helpful in the process of making a decision about something. However, if you are able to put the different bookmakers head-to-head and compare them with each other while focusing on specific factors like odds, bonuses, payments, or live betting, it will be much simpler for you to sign up with a sportsbook that actually provides what it promises.
It is very important to carefully compare two different bookmakers and find out what advantages one bookmaker might have over the other. With the Comparison Tool on Free Betting Reviews, you can quickly keep an eye on the things that are most important to your betting and improve your experience as a whole.
You Will Be Able to Obtain the Greatest Deals Available and Have A Chance To Win More Money
You are able to compare the prices that various bookmakers are offering at each event with the help of FBR Comparison Tools. This gives you the ability to choose the bookmaker that offers the odds that are in your favor when you are ready to place a bet. It may be hard to believe, but the odds and pricing offered by different bookies can vary widely. A matrix will be used to compare the prices. All of the possible outcomes of the event you are looking at will be listed down the left side of the matrix, and the prices offered by the bookies will be listed in different columns across the top of the matrix.
There are a number of different justifications that support the idea that you should evaluate the odds. The odds that are offered for each and every option can fluctuate by as much as fifty percent at any given time. Because the margins in the betting market are so thin, you have to be sure that you are getting the best pricing that is available to you. It's possible that if you earn 20% more, you could theoretically make three times as much as you did before.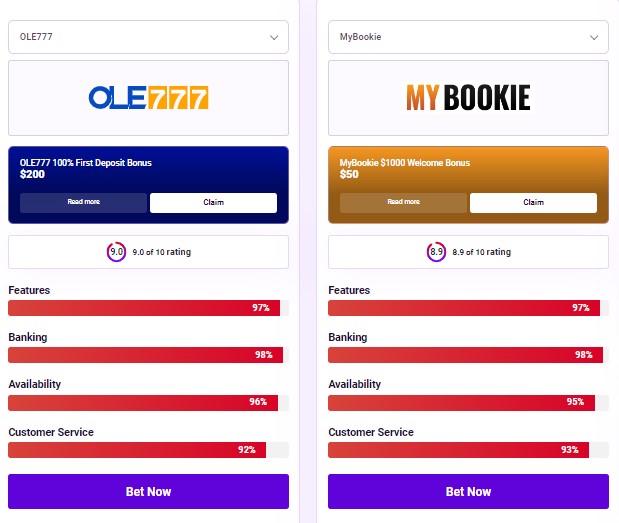 How to Use FBR's Comparison Tool?
While searching for the best bargains, the best insurance providers, or virtually any other service that's available, it's just as crucial to compare different shopping sites as it is to compare different shopping sites when seeking the finest online casinos and bookmakers to use. The following is a rundown of the procedures you need to complete in order to use the bookmakers' comparison tool at FBR:
1.Simply visit the Free Betting official website page.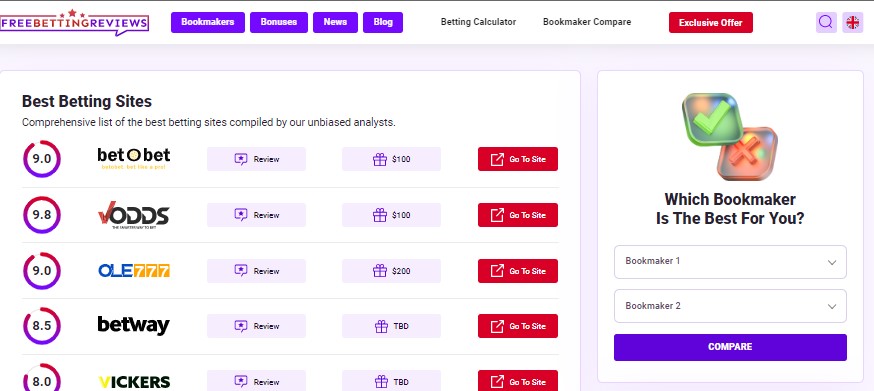 2. Find the "Bookmaker Compare" section in the top right corner of your screen, then click on that part.
3. Or you can compare right on the home page.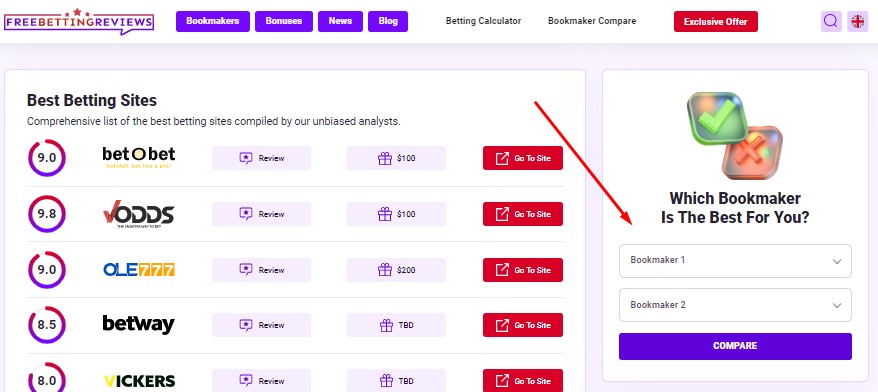 4.If you click on it, you'll be taken to a page with two columns and the word "select" on top of each.
5. You may then compare betting services by selecting a single bookmaker from each column.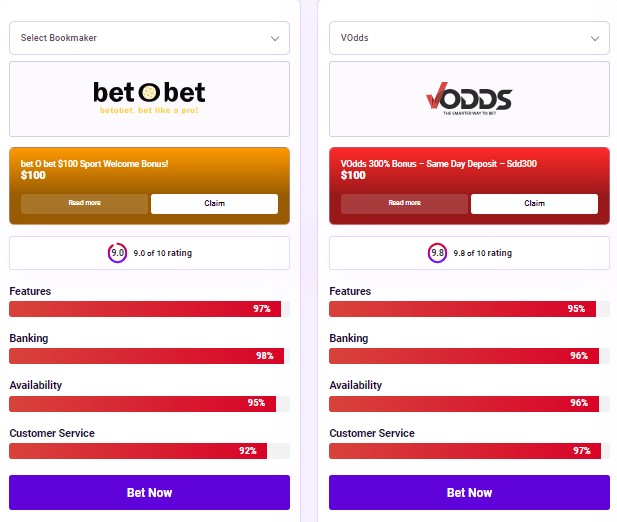 List of Bookmakers You Can Compare
Everyone who plays at online casinos or bets on sports online needs accurate knowledge about the various sportsbooks out there so that they can pick the best bookies for them. Here is a list of betting sites that may be compared using FBR's handy tool.
1win
Asianconnect
BetInAsia
BetOnValue
Betwinner
Eastbridge
Mostbet
NordicBet
Odds4sports
PollyTrading
Sportmarket
VOdds
1XBET
22BET
4rabet
BetOnline
GGBet
Hollywoodbets
Melbet
N1Bet
SportsBetting
Sportsbet
Spreadex
William Hill
There are a large number of bookmakers on the market, and it would take an extremely long time to check each one of them. When you use the bookmaker comparison tool at Free Betting Reviews, you can look at what each bookmaker has to offer and choose the best bets from among them in just a matter of minutes.